This is the time of year I start selecting and labeling plants to save seed from two of my favorite open pollinated vegetable varieties. For crops where the fruit is the edible part of the plant, it's very easy. You simply let the fruit get a bit over-ripe, then use a wet seed extraction process to get the seeds.
Crimson Sweet Virginia Select watermelon. Photo courtesy SESE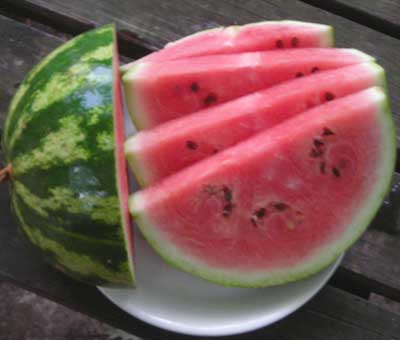 We have been selecting Crimson Sweet watermelon for early fruiting, large size, disease-resistance and flavor, and this seed is now sold by Southern Exposure Seed Exchange as Crimson Sweet Virginia Select. (They supplied this photo.) We used to mulch our watermelon patch with hay, which actually delays ripening, because it cools the soil. So working to get earlier watermelons was very important to us. Using the biodegradable plastic mulch warms the soil, causing the melons to ripen earlier. The combination of plastic mulch and seed selection means we now get melons when it's hot, and not just at the end of summer as we did previously!
Once the melons start to form on the vines, I walk through the patch and write a number on the skin of big melons with healthy foliage. I just did this last week. I numbered 1-42, using a grease pencil. Large early size is related to early ripening, but it's not the same thing. If the numbered melon doesn't actually ripen early, I don't save seed from it. Once the melons stat to ripen, I look through the patch once a week and choose 6-8 ripe numbered melons to save seed from. I cut open the melon and eat a big spoonful from the heart. If the flavor is only so-so (I have high standards!) I don't save seed, but just put the melon in the kitchen for everyone to eat. I keep a log book and record the harvest date, size and flavor. Then I scoop the seedy part of the melon into a seed bucket and the edible flesh into a clean bucket for us to eat later.
I ferment the seed for a few days, then wash and dry it. Usually I do one batch of seed a week for about 6 weeks, from late July to early September. Ones not ripe by then can't qualify as early-ripening!
On a different day of the week, I collect ripe fruit from the Roma tomatoes. Here we are selecting for earliness and disease resistance, particularly resistance to Septoria leaf spot, which used to plague us.
As the first fruits ripen, I walk along the rows with two colors of biodegradable flagging tape. I use red tape to mark plants with early ripening fruits (and average or better foliage). Later in the season I also use another tape to mark plants with particularly healthy foliage and a reasonable yield of fruit. I tie the tape to the neighboring T-post, with a bow on the side of the post indicating which direction from the post the chosen plant is. Early in the season all the foliage is healthy – the leaf diseases develop as the season goes on.
Once a week I harvest a couple of ripe tomatoes from each marked plant. I don't extract seed immediately. but store the bucket of tomatoes for a few days in a secret place (where no-one will find and eat them!) This lets the fruit and seeds mature a bit more. To save the seed, I cut the tomatoes lengthwise and spoon out the seed. I wash the tomatoes first, so I can then save the flashy "shells" for making salsa or tomato sauce. The tomato seed goes through the same kind of fermentation process that we use for the watermelon seed. This is a surprisingly easy way to separate the seed from the extraneous stuff, and in addition, fermentation kills off the spores of certain diseases.
This photo of Septoria Leaf Spot is from Cornell University Long Island Horticultural Research and Extension Service.
With both these crops, we get both food and seed from the same fruits. And we are developing the varieties in ways that work best in our climate and under our methods of growing these crops. Plus I get to sell seed to SESE, as well as have enough for ourselves. The process of saving our own seeds involves selecting from at least 25 plants, to ensure some genetic diversity, and this inevitably leads to saving more seed than we need just for ourselves. Happily, that means we can supply this seed to others who want similar traits in their crops.
Southern Exposure has information for those growing seeds, and there is also a wealth of useful info on many seed crops at Saving Our Seeds. They have seed growing manuals for both the mid-Atlantic and the Pacific Northwest, for a range of crops. And if you find yourself really drawn in to seed growing, see my review of John Navazio's book, Organic Seed Grower .